Pioneer Supermarket Waterford
Recipes
https://waterford.pioneersupermarket.com/Recipes/Detail/7621/Mango_Chutney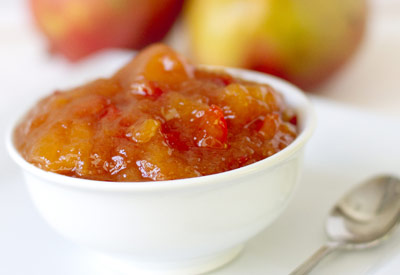 Mango Chutney
Yield: 4 servings
Preparation Time: 10 min; Cook Time: 25 min
Ingredients
1

small Granny Smith apple, peeled, cored and chopped into 1/4- inch pieces

2

ripe mangoes, peeled, pitted and chopped into 1/4- inch cubes

1

small red onion, finely chopped

1/4

red bell pepper, chopped into 1/4- inch pieces

1/2
cup

granulated sugar

1/4
cup

golden raisins

1/4
cup

distilled white vinegar

Fresh ginger (1 1/2- inch piece), peeled and grated

1 1/2
Tablespoons

fresh lemon juice

1/2
teaspoon

curry powder

1/4
teaspoon

green cardamom

1/4
teaspoon

ground cinnamon

1/4
teaspoon

ground nutmeg (freshly grated if available)

1/4
teaspoon

sea salt
Directions:
To a medium saucepan, add apple, mango, onion, red pepper, sugar, raisins, vinegar and ginger and bring to a boil over high heat. Reduce the heat to medium-low and simmer, stirring occasionally, until the fruit is tender and the mixture has thickened, about 20 minutes.

Add the lemon juice, curry powder, cardamom, cinnamon, nutmeg and salt, increase the heat to high, and bring to a gentle boil for 5 minutes. Turn off the heat and transfer to a medium bowl.

Once the chutney has cooled to room temperature, cover the bowl with plastic wrap and refrigerate until well chilled, at least 30 minutes. The chutney can be stored in an airtight container for up to 1 week.
Recipe used by permission of the National Mango Board (recipe from The Tasting Table Test Kitchen)
Please note that some ingredients and brands may not be available in every store.
Pioneer Supermarket Waterford
Recipes
https://waterford.pioneersupermarket.com/Recipes/Detail/7621/Mango_Chutney